Sale!
Symantec Secure Site
The Most Trusted and Comprehensive SSL Certificate Solution
Green Address Bar
SAN Support
Vulnerability Assessment
Wildcard
Site Seal: Dynamic
Server Licensing: Limited
Malware Scan
₦253,671.35
1000 in stock (can be backordered)
Symantec™ is the world's most trusted SSL certificate brand in the world, as its certificates display the globally recognized Norton™ Secured Seal on every site they protect. The Symantec Secure Site is the most feature-rich Organization Validated (OV) certificate in the industry, encryption strength up to 256-bit, malware scanning, along with the highest industry warranty ($1,500,000). With these features and the Norton Seal, the Secure Site is sure to provide top-of-the-line protection and the highest level of trust to any e-commerce business.
Assurance & Authentication

The 99.9% Browser Recognition Rate eliminates any customer inconvenience while the Norton™ logo will immediately increase customer confidence because of its prominence on the web. In fact, The Norton seal gets around 800 million impressions per day across 165 countries. As an Organization Validated (OV) certificate, a company vetting process needs to be completed before the SSL is issued, and this process is typically completed in 1-3 Days.
Security & Encryption

The Secure Site is available in encryption levels from up to 256-bit encryption, which allows web security administrators to choose select the level of protection that best suits their needs. Also, malware scans will help continue to maintain the integrity of your website.
SAN & Multi-Domain Support

Symantec now includes a free SAN for your base domain name with this certificate, which means you can secure www & non www versions with single Symantec Secure Site SSL certificate. In total, you can secure up to 250 domain names with this certificate. Also, this one certificate can do a host of jobs, securing multiple domains on a single IP address.
Ready Issuance Enabled
Ready Issuance is a convenient premium feature for Symantec OV products that involves your company passing business-level authentication prior to generating this certificate. Then (upon approval) it allows you to instantly issue Symantec certificates over the next 27-months without having to go through the validation process again for each certificate, learn more. This certificate is eligible for Ready Issuance, to use with Ready Issuance simply check the Ready Issuance box during the enrollment/generation process where we will then make sure that all the information you've entered matches Symantec's Pre-Authentication Records application we have on file.
You must be an approved Reseller or Enterprise user of The SSL Store™ to apply for Ready Issuance Pre-Authentication. Simply fill out the application with your company's official registry details and include information for up to ten corporate contacts and input up to 25 top-level domains that you wish to cover. Upon completion of the pre-authentication process, you will be able to issue Symantec OV SSL Certificates – like this one – instantly for your pre-authenticated domains.
Mobile & Browser Compatibility

This SSL certificate is extremely compatible.
Compatible Browsers:
Chrome 3 (above)
Opera 7 (above)
Safari all browsers
Firefox 1 (above)
Netscape 9 (above)
IE 5 (above)
AOL 10 (above)
Mobile compatibilities include:
Microsoft Pocket Internet Explorer
Palm / Handspring Blazer 2.0
Apple Iphone, Ipad Safari
NTT Do Co Mo
Microsoft Internet Explorer Smartphone 2003
Sony Playstation Portable
Sony Netjuke Audio
Netfront 3.0
Blackberry
AT&T
Openwave
Brew
Vodaphone
Features & Benefits

Secure Site SSL is a fully Business Validated Certificate
Symantec Secure Site covers both www & non-www versions.
Full business authentication
40-bit to 256-bit Encryption
Secure up to 250 Domains
Norton™ Secured Seal
Free Installation Checker
Symantec Secure Site SSL carry warranty of $1,500,000
Includes Reissuance Insurance
99.9% Browser Recognition Rate
Supports Mobile Devices
Norton™ Malware Scanning (Behavioral/Predictive)
Unlimited & FREE Self-Service Reissues
Customer Portal to Manage your New and Existing Orders
FREE 24/7 Technical Support
FREE Installation Guidelines
30 Day Money Back Guarantee!
SAN hosts allowed different domains
Supports 2 encryption algorithms, RSA and DSA
Secure Multiple Domains on a Single IP Address**
** Applicable to a server that supports SNI (Server Name Indication)
Product Specifications

This certificate secures www & non-www domain names with single SSL certificate and is considered the same FQDN.
Issued In 1-3 Days
Organization Validated
Domain Name and Business Name Shown On Certificate
Encryption Strength Up to 256-bit
99.9% Browser Compatibility
Site Seal Included
Single Server – Additional server licenses may be purchased
Uses Chained Certificates (since all certs have intermediates)
FREE self-service reissues during validity period
Site Seal
With the Norton™ Secured Site Seal receiving around 800 million impressions a day over 165 countries, you can feel confident that this widely known and esteemed symbol will be recognized and trusted by a large majority of your customers immediately upon visiting your web page.
Warranty

The largest industry warranty offered at $1,500,000 (among non-EV, non-SGC certificates). Plus, reissuance insurance and a free installation checker make purchasing this certificate as comfortable as installing it. Symantec™ also includes the NetSure™ Protection Plan which protects SSL certificate customers from certain losses incurred as a result of a breach by Symantec™ of the warranties included.
Symantec Brand

Simply put – Symantec is the most trusted name in internet security. If you truly want the most bang for your buck when it comes to SSL, there simply isn't a better option than a Symantec branded certificate. Why? Because, along with additional features like malware scans and vulnerability assessments, Symantec SSL certificates come with the most universally trusted image on the planet – the Norton seal. These certificates offer tremendous ROI potential and are a worth-while investment for any online business that places the highest level of importance on their customers' trust and security.
Why Buy from clovo-works ?

In a nutshell, because you'll be getting the exact same products as you would from buying direct, but at much lower prices. How is this possible? Because we're platinum partners with Symantec and we buy SSL in extremely large quantities at deeply discounted rates, so we're able to pass those savings directly to our customers. Also, we don't consider ourselves just an SSL provider, but rather a Premium SSL Service. That's because we have a team of more than 45 SSL experts standing by ready to support your order. You can always reach our SSL specialists via email, live chat, and telephone.
Installation & Technical Support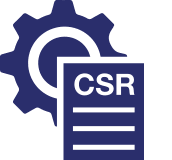 Instructions for Generating a CSR
Here you will be able to get step-by-step instructions for generating a CSR for this product and your server. Simply select your server and then follow the instructions.
5 Stars

4 Stars

3 Stars

2 Stars

1 Stars
If you finish the payment today, your order will arrive within the estimated delivery time.