Sale!
EssentialSSL (DV)
Quick and basic encryption from a popular brand
Green Address Bar
SAN Support
Vulnerability Assessment
Wildcard
Site Seal: Static
Server Licensing: Unlimited
Malware Scan
₦51,461.35
1000 in stock (can be backordered)
If you're looking for simple encryption for your site, the Comodo Essential SSL certificate is one of the most affordable options on the market. This certificate can be issued in a matter of minutes with the strongest encryption available. All domains protected by this certificate will display "https" in the URL, along with a padlock icon and Site Seal. However, the main feature of this certificate is the speed of issuance, making it a perfect fit for internal testing domains and light ecommerce websites.
Assurance & Authentication

As a Domain Validated (DV) certificate, the Comodo Essential SSL can be issued in just a few minutes. All that Comodo has to do is verify that you own the domain you wish to cover. This can be done by answering a simple email or placing a file in your code.
Security & Encryption

The Comodo Essential SSL certificate offers basic 128-bit encryption and can also be issued encryption strength up to 256-bit. This certificate is also signed with a 2048-bit root.
SAN & Multi-Domain Support

This certificate is only available for one domain. But, if you need to cover subdomains, you could go with the Comodo Essential SSL Wildcard certificate, which will cover one main domain and an unlimited amount of subdomains.
Mobile & Browser Compatibility

Browser compatibility is around 99.3%.
This certificate doesn't boast the strongest mobile compatibility in the world.
We would strongly recommend the Comodo SSL Certificate if customers are likely to access your site from a mobile device, as this certificate is much more mobile-friendly.
Compatible Browsers:
Chrome 3 (above)
Opera 7 (above)
Safari all browsers
Firefox 1 (above)
Netscape 9 (above)
IE 5 (above)
AOL 10 (above)
Mobile compatibilities include:
Android (carrier specific)
Microsoft Windows Mobile 5 & 6
Apple Iphone, Ipad Safari
Microsoft Windows CE 4.0
Microsoft IE Pocket PC 2003
Microsoft IE Smartphone 2003
RIM Blackberry 4.3.0
Major Operators Inc. Vodaphone
Orange
AT&T
NTT/DoCoMo
SoftBank Mobile
KDDI
Brew
PalmOS 5.x
Netfront 3.0
Opera 4.10
Openwave mobile browser 6.20
Major handset providers SonyEricsson
Nokia
Features & Benefits

Domain validated, 2048 bit Industry Standard SSL Certificate
Immediate "No Hassle" SSL certificate issuance 24/7
Unlimited server licenses
Automated validation – no paperwork
FREE site seal
Risk FREE 30 day refund policy
Unlimited Re-issuance Policy
Trusted by all popular browsers with 99.3% Ubiquity
$10,000 Relying Party Warranty
FREE site seal, FREE PCI scanning, FREE daily website scanning
FREE 24/7 Technical Support
30 Day Money Back Guarantee!
Product Specifications

Single Domain Name (FQDN) domain.com and www.domain.com
Issued Immediately
Domain Validation
256 bit Encryption
99.3% Browser Compatibile
Free Unlimited Server Licenses
Includes COMODO Static Site Seal
Unlimited Reissuance
** This certificate does not work for Exchange Servers
Site Seal

This certificate comes with a basic Comodo Secure Site Seal. Since this is a simple Domain Validated (DV) certificate, the Comodo Essential site seal is static and will display company information. But, your customers will be able to see that your domain has been vetted by a third-party security expert.
Warranty

The Comodo Essential SSL certificate is backed by a standard $10,000 warranty. So, In the unlikely event that your site is breached and a customer of yours incurs losses because of this breach, you will be compensated for up to $10,000 by the Certification Authority (CA), Comodo.
Comodo Brand

When you purchase a Comodo SSL certificate, you're putting yourself in extremely good company. How good? Well, for example, 7 of the 10 top fortune 500 companies in the world are using Comodo branded certificates. If you want your business to be trusted on a level similar to the top companies on the planet, Comodo certificates are a great place to start. This brand is one of the most trusted in the world, as Comodo certificates are the most common SSL on the internet. Online customers are running into the Comodo trust seal on a very frequent basis, and they are quickly recognizing that websites protected by this brand are safe to do business with. As this brand offers a wide range of certificates under its umbrella, businesses of all shapes and sizes are sure to find a security solution that matches their exact needs.
Why Buy from CLOVO-WORKS ?

In a nutshell, because you'll be getting the exact same products as you would from buying direct, but at much lower prices. How is this possible? Because we're platinum partners with Comodo and we buy SSL in extremely large quantities at deeply discounted rates, so we're able to pass those savings directly to our customers. Also, we don't consider ourselves just an SSL provider, but rather a Premium SSL Service. That's because we have a team of more than 45 SSL experts standing by ready to support your order. You can always reach our SSL specialists via email, live chat, and telephone.
Installation & Technical Support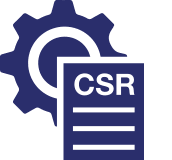 Instructions for Generating a CSR
Here you will be able to get step-by-step instructions for generating a CSR for this product and your server. Simply select your server and then follow the instructions.
5 Stars

4 Stars

3 Stars

2 Stars

1 Stars
If you finish the payment today, your order will arrive within the estimated delivery time.