Sale!
Comodo EV Multi-Domain 2 additional SAN included
A premium multi-domain certificate designed exclusively for Microsoft Exchange Servers
Green Address Bar
SAN Support
Vulnerability Assessment
Wildcard
Site Seal: Static
Server Licensing: Unlimited
Malware Scan
The Comodo Unified Communications Certificate (UCC) is the most effective solution for securing a Microsoft Exchange and/or Microsoft Office Communication Server environment. This single SSL certificate can provide secured communications on many different domains, external, which will reduce the complexity of your server security administration, along with reducing cost. Additionally, this certificate supports the Microsoft Exchange Autodiscover service, which is a new capability on the Exchange platform designed to ease client administration.
₦191,621.35
Websites protected by the Comodo EV Multi-Domain SSL certificate benefit from top-level security and the highest layer of online trust. That's because this certificate offers the strongest layer of encryption along with the web's most recognized trust indicators, the most prominent of which is the green address bar. Only Extended Validation (EV) certificate provide the green address bar, which customers have learned to associate with the most trusted companies in the world like Paypal, Amazon, Twitter and more. Best of all, since this is a multi-domain certificate, you can harness the power of the green address bar across all of your domains with just one certificate. This web security product is perfect for highly visited ecommerce sites and any other business that wants customers to instantly identify them as a trustworthy company.
NEW: cWatch Web Premium-60 Days
With your SSL purchase, you receive a free 60-day trial of cWatch Web Pro – a $82.50/year product! This complete website Security-as-a-Service solution is built on Comodo's 20 year foundation of security intelligence & experience to deliver an affordable, yet comprehensive security stack for any website or application that's fully managed by human cyber security analysts. It goes far beyond SSL security to fight malware, defends against threats, boost performance and adds expert oversight to your security arsenal. Learn More.
Assurance & Authentication

EV stands for Extended Validation, which means that your company will have to complete a thorough vetting process before having the certificate issued, which typically takes between 1-5 Days. The reason for this validation is so that Comodo can be certain that you are who you say you are, which they can then prominently display to your online customers.
Please note: This product requires you to complete Telephone Verification. For new customers/orders after October 6th, 2016, Comodo requires either a Dun and Bradstreet, BBB.com listing, or a Legal Opinion Letter to complete telephone verification. Other third party telephone directories such as Yellowpages.com will not be accepted after this date. If you cannot complete these options, please contact us at support@thesslstore.com as we have other solutions that may be easier for you to complete.
Security & Encryption

The Comodo EV Multi-Domain SSL offers the highest strength 2048-bit signatures along with full 256-bit encryption. This certificate also comes with a year of free PCI scanning and website vulnerability scanning. With the Comodo EV Multi-Domain certificate, you will truly be getting one of the web's premier security products.
SAN & Multi-Domain Support

This EV multi-domain certificate comes with a total of 3 domains. This means that would will get to display the green address bar on all of those domains with just one SSL certificate. You can also purchase additional domains, up to 250 – making this one of the most efficient EV certificates in the industry.
Mobile & Browser Compatibility

This EV certificate boasts an incredible 99.9% browser recognition rate and is one of the most mobile-friendly certificates on the market.
Compatible Browsers:
Chrome 3 (above)
Opera 7 (above)
Safari all browsers
Firefox 1 (above)
Netscape 9 (above)
IE 5 (above)
AOL 10 (above)
Mobile compatibilities include:
Android (carrier specific)
Microsoft Windows Mobile 5 & 6
Apple Iphone, Ipad Safari
Microsoft Windows CE 4.0
Microsoft IE Pocket PC 2003
Microsoft IE Smartphone 2003
RIM Blackberry 4.3.0
Major Operators Inc. Vodaphone
Orange
AT&T
NTT/DoCoMo
SoftBank Mobile
KDDI
Brew
PalmOS 5.x
Netfront 3.0
Opera 4.10
Openwave mobile browser 6.20
Major handset providers SonyEricsson
Nokia
Features & Benefits

128-bit minimum to 256-bit encryption
Full business authentication
$1,750,000 warranty
99.9% Browser Recognition Rate
Supports Mobile Devices
30 day, no questions, money back guarantee
Includes 30 Day Issuance Insurance
Product Specifications

Multiple domains (up to 250)
Extended Validation
Green Address Bar
Up to 256-bit, Automatic step-up (SGC) Encryption
99% Browser Compatibile
Unlimited Server – Additional server licenses may be purchased
Issued In 1-5 Days
Reissue Within 30 days
Includes Site Seal
Simple and convenient – one certificate to manage for all your domains
Huge savings over the cost of individual EV SSL certificates
Site Seal

This Comodo certificate will display the popular Comodo Site Seal on your domain and subdomains, making it immediately visible to your online customers. This popular icon is gaining more and more recognition on the web, and customers are continuing to learn to associate the "Comodo Secure" logo with trust and reputability. However, since this is a Multi-Domain cert, this Site Seal is static and doesn't display any additional company information.
Warranty

The Comodo EV Multi-Domain certificate is available with a $1,750,000 warranty, one of the highest in the industry. A high warranty on an SSL certificate gives you the ultimate assurance. Basically, the extremely unlikely event that your site is breached due to a flaw in the SSL, and a customer of yours incurs a loss because of this, you will be compensated by Comodo for the damages up to $1,750,000.
Comodo Brand

When you purchase a Comodo SSL certificate, you're putting yourself in extremely good company. How good? Well, for example, 
7 of the 10 top fortune 500 companies
 in the world are using Comodo branded certificates. If you want your business to be trusted on a level similar to the top companies on the planet, Comodo certificates are a great place to start. This brand is one of the most trusted in the world, as Comodo certificates are the 
most common SSL on the internet
. Online customers are running into the Comodo trust seal on a very frequent basis, and they are quickly recognizing that websites protected by this brand are safe to do business with. As this brand offers a wide range of certificates under its umbrella, businesses of all shapes and sizes are sure to find a security solution that matches their exact needs.
Why Buy from clovo-works ?

In a nutshell, because you'll be getting the exact same products as you would from buying direct, but at much lower prices. How is this possible? Because we're platinum partners with Comodo and we buy SSL in extremely large quantities at deeply discounted rates, so we're able to pass those savings directly to our customers. Also, we don't consider ourselves just an SSL provider, but rather a Premium SSL Service. That's because we have a team of more than 45 SSL experts standing by ready to support your order. You can always reach our SSL specialists via email, live chat, and telephone.
Installation & Technical Support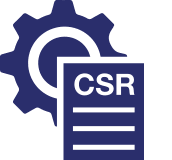 Instructions for Generating a CSR
Here you will be able to get step-by-step instructions for generating a CSR for this product and your server. Simply select your server and then follow the instructions.
5 Stars

4 Stars

3 Stars

2 Stars

1 Stars
If you finish the payment today, your order will arrive within the estimated delivery time.